Riding fast is hobby of many people in the world. There are many types of vehicles like cars, SUVs, trucks. Bikes are also a fast and furious ride. Bikes have different types like Hardly Davidson, scooter types etc. Sports bikes are the fastest in all on them, which can go up to speed of 300mph and more. In the following we have list of top 10 fastest sports bikes of world,


10. Suzuki GSX-R750
The Suzuki GSX-R750 is a first of its kind inspired from racing bikes. In 1985, this was the first bike which started the trend of sports bikes. The 750cc four cylinder motor develops a humble 148 bhp of power, combined with its light weight chassis ensures that the Gixxer reaches its top speed of 268 km/h. The engine allowed the biker to ride at a speed of 168 miles per hour and is immensely popular even today.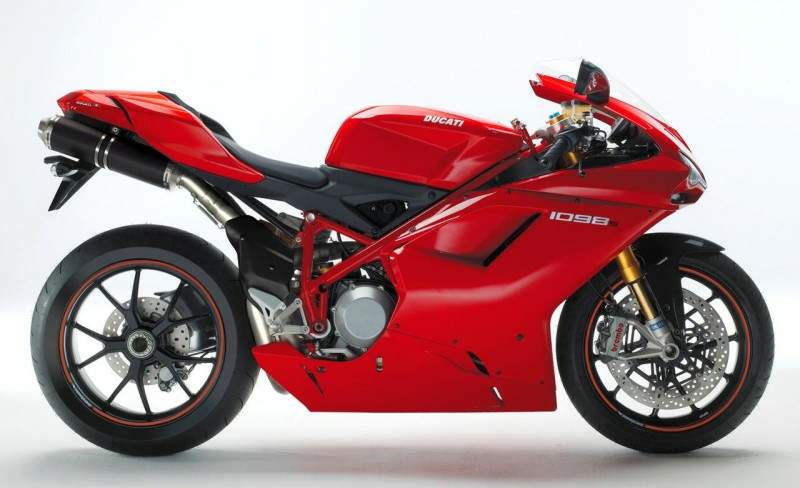 The Ducati 1098S manufactured by the Italian motorcycle company Ducati since 2007. The Ducati 1098S not only run not only on ordinary roads but also on the race tracks. The Ducati 1098S boasts of a top speed of 275 km/h from its 160 Bhp motor and is widely acclaimed for having the highest torque to weight ratio of any production sports bike ever made.
The CBR1000RR (also known as the Fire-blade) is a 999 cc, four-cylinder Honda sport bike that was introduced in 2004. The Honda CBR1000 RR entered the markets in 2004 The stroke and bore dimensions were new and unique and standards were set for upcoming models. The speed of the Honda CBR1000 RR has been estimated at 172 miles per hour. The fire blade has a top speed of 276 km/h
The MV Agusta F4 is the bike that features like Euro 3 engine and 185 HP at 18000 rotations. The speed of the MV with 182 Bhp at 12,500 rpm, this F4 R312 has all the characteristics of a Moto GP bike was and can reach a top speed of 281 km/h.
Yamaha YZF- R1 was launched in 1998, and features a 998 cc, liquid-cooled, 16-valve, DOHC, in-line four-cylinder engine with cross plane crankshaft. The Yamaha achieve a top speed of 284 km/h and go 0-100 km/h in 3 seconds, just 0.1 seconds behind official timing of a Lamborghini Aventador. The design of the bike as well the engine has been modified over the years, especially during 2002 till 2009.The newest model of the Yamaha YZF-R1 is beautiful in terms of appearance and performance.
This Gixxer is one of the most beautiful bike. It was introduced in 2001 to replace the GSX-R1100 and is powered by a liquid-cooled 999 cc motor, 192 hp of power at 12,100 rpm and this is enough to propel this bike to a top speed of 285 km/h ensures it's in the top five.
4. Kawasaki Ninja ZX-10R
The Ninja ZX-10R is a Kawasaki sport bike. The ZX-10R has the highest theft and damage loss claim rate of any registered motorcycle which does to show the popularity of this Ninja. It was originally released in 2004. It combines an ultra-narrow chassis, low weight, and radial brakes. Features like 4-stroke; liquid-cooling, 12,500 rpm, 1000 cc, 4 valve cylinders and DOHC deserve to be mentioned when describing this extraordinary engine. Ninja has the top speed of 288 km/h.
The Ninja ZZR 14 is the most powerful Ninja by Kawasaki. It was introduced at the Tokyo 2005 show. The 1352 cc engine is liquid-cooled, every cylinder has four valves and is just 1 short of the 300 km/h top speed figure, at the same time racing from 0-100 km/h in only 2.9 seconds..This bike develops 190 Bhp of power at as low or high as 9500 rpm. Kawasaki Ninja ZX-14 has a top speed of 300 km/h.


2. Suzuki Hayabusa
Suzuki Hayabusa is famous for being the most powerful bike in the world for a long time. It was first introduced in 1999 and is also called the "black bird". Features of Hayabusa's engine are like that 1350 cc, 4-cylinder, 4-stroke and 16 valve. The hot selling Hyabusa have got 197 horsepower in its engine which can take him to the top speed of 320 km/h, but current model has electronically limited speed of 186 mp because its performance is seen as a death machine by many.


1. BMW S1000RR
The BMW S1000RR has received number of awards, including machine of the year.
It produces 193 Bhp of power at lofty 14,200 rpm and a weight of just 207.7 kg which ensures that this Beemer does 330 km/h provided you have the road and guts to do it. Its radical styling may not win it many fans but it is the fastest bike in the world now.